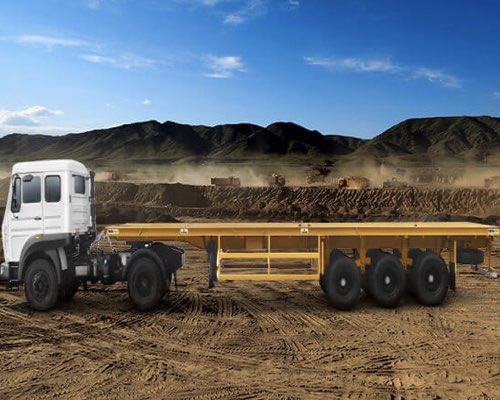 Flat Bed Trailer
Vishwakarma Transport Flatbed Trailers are designed to cater to your Specific Transportation Needs
Flatbed truck, trailer or lorry are just what the name suggests. These trucks have completely flat trailers bereft of body, roof or side walls. Having no room or body serves an important purpose here. It makes it rather convenient to load or unload heavy cargo on such trucks. For all intents and purposes they are used to transport heavy cargo that are not vulnerable to vagaries of nature such as harsh rain, wind or sun. flatbed trailers are also employed to carry abnormally heavy loads that cannot be fitted inside the body of the regular truck.
A flatbed truck has a solid flat surface usually constructed out of wooden planks. Roof or side walls are absent. Loads are kept in its place by rolling ropes over it which is hinged to tie-down hooks around its edge. Vishwakarma Transport have a large fleet of flatbed trailers to take efficient care of your unique transportation needs. A transporter of impeccable repute and expertise, Vishwakarma Transport is well aware of the fact that loads need to be tied securely to keep it from falling or being displaced during the course of the journey. The transport company as such makes use of popular tie-down accessories such as nylon strap, basket strap, V-straps, ratchet, chains or ropes to secure the cargo.
Weather protection is provided by the company if you request for it. The load is generally covered with a tarpaulin, held down by ropes. Also, you need to be aware of the fact that manual loading on these trucks is a risky job. It needs to be carried out with utmost care, skill and patience. Loosely tied load may fall off during transit leading to catastrophic accidents and snarling road traffics. To ensure that your bulky commercial consignments consisting large pipes, machinery, coils, prearranged concrete structures, wires, etc. are transported securely, you need to immediately get in touch with Vishwakarma Transport. The company offers customized transport solutions at pocket friendly prices and serves as your partner in growth.
Our Strengths are:
Experience in transporting Super ODC of up to 150 feet in length, 25 feet in width and 26 feet in height.
Over 4 Decades of industry experience
Complete workforce having a minimum of 15 years experience in ODC
Self Owned Fleet and attached fleet consisting of Low Bed Trailers, High Bed Trailers, High Bed Trailers, Long Wheelbase Trailers, 16 Wheeler and Open Trucks
If a low bed trailer is what you are looking for, you are more than welcome to request a quote. Which is, of course, free of charge. Together we will find a low bed trailer that best fits your transportation needs, so that you will every day experience the greatest possible added value for your business.
We provide ODC transportation services from Vadodara and several major cities to All Over India. The list of services where we provide our services are as below:
Delivering the Best Logistics Solutions.
Looking for a Heavy Transport Specialist for your Transportation Solutions? Send us your requirements to get a quote in no time!